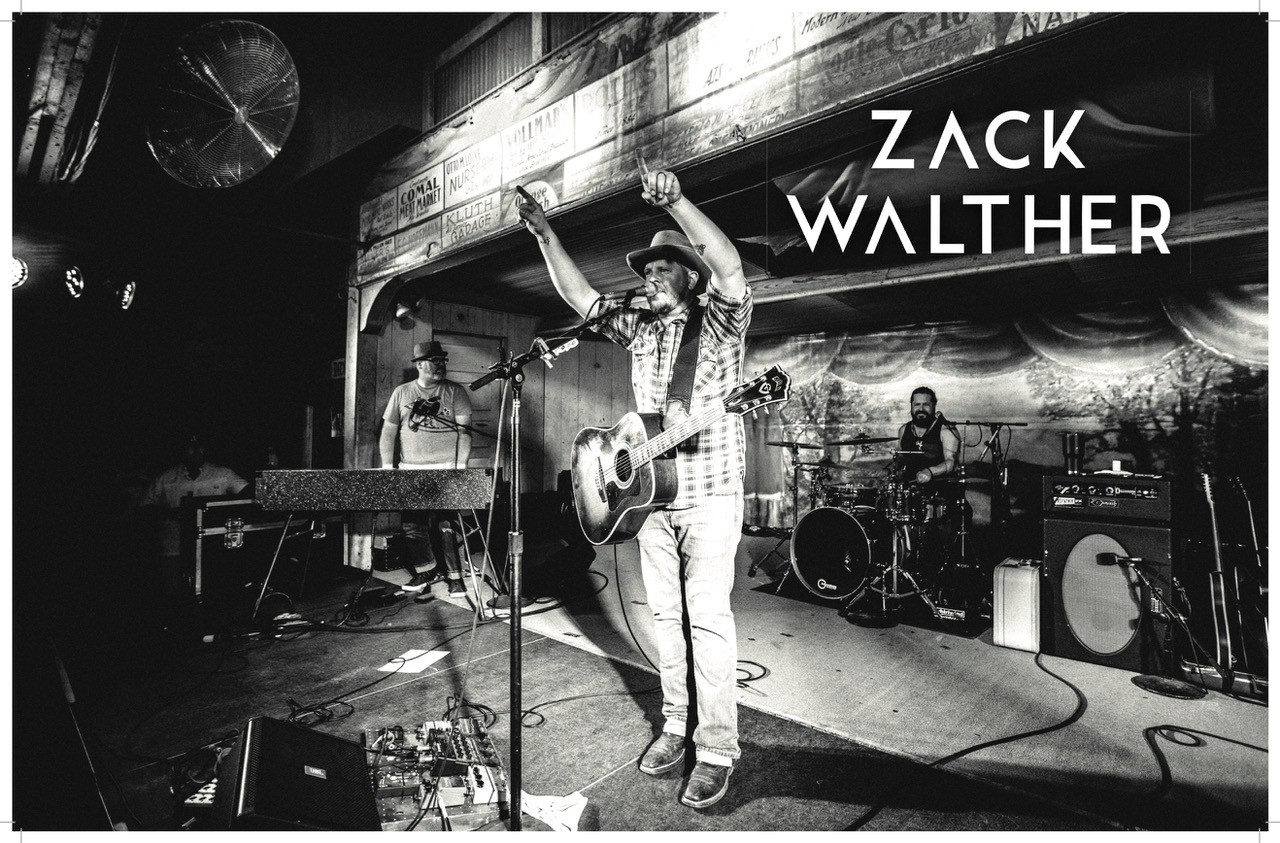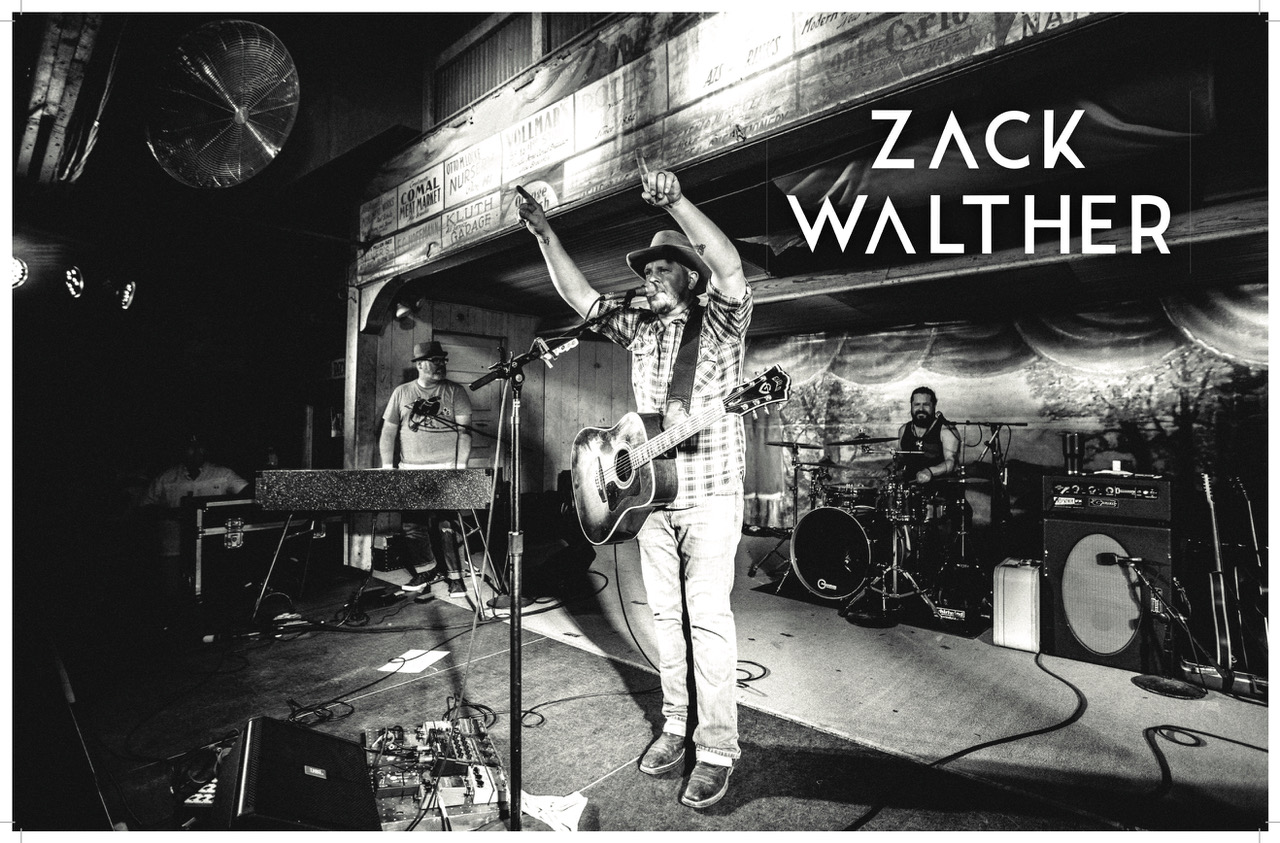 When Zack Walther went to college to major in music, he had to choose an "instrument of study." And—no accident—he chose his own voice. As a child of the 1980s he sang in the school choir and learned to play songs by ear on his brother's upright piano, "But it was mainly the white keys," he recalls. Then, as an afterthought, he adds, "It still is." That piano may have been the first musical instrument he ever touched, but it certainly wasn't the last.
By the time the '90s rolled around, he was a teenager immersed in rock and roll and already a developing musician. That's when he found his father's old nylon-string classical guitar, long forgotten and stashed in the family attic. When he was 13, his folks, aware of his interest, bought him a basic electric guitar and a little Crate amp. Two years later, they surprised him on Christmas with his first quality acoustic guitar. "I played all through Christmas day," he says. "Playing songs, learning songs, country songs, rock songs, just basic chords." Still, he knew he was destined to be a vocalist—first and foremost.
"Singing was a natural thing for me, and it always has been because I've gone through college and actually been classically trained to sing." He picked up piano and guitar on his own, and though he's had a few lessons, considers himself self-taught. "There was always interest early on, very early, playing music and singing. And because I was the vocalist of my friends, I've always been the lead singer," he says. "I can remember, at 13, 14 years old having band practice in my best friend's garage." High school was a whirlwind, "a lot of guys and girls creating bands." Over the 30-year span of his musical life, he's been in and out of bands, including, fairly recently, Zack Walther and the Cronkites, a name familiar to many aficionados of Texas music. An album—Ambition—arose out of that collaboration. In his current iteration of band names, it's back to basics: The Zack Walther Band, a three-piece ensemble with guitar, bass and drums.
Once the seeds were planted, Walther has just kept growing musically year after year, gaining experience, covering new songs and musical genres, until he evolved into the versatile performer that he is today. He's able to deliver anything from the Beatles to Bruce Springsteen to Leonard Cohen to a whole catalog of originals, many of which make up the tracks on albums he's recorded over the years. As a teenager, "The alternative rock scene was huge, and that's what we listened to mostly. But I was also raised on my dad's LPs, the Beatles. I had a huge, strong influence from Simon & Garfunkle. That was one of my favorites growing up. In fact, the first song I ever played in front of an audience was 'Sound of Silence.' And I still play it today."
The versatility that defines his performances extends to a wide range of music that's known by the vast majority of Americans regardless of background or regional differences. It's a genre that's come to be known as "Americana"—music that's rooted in the heritage of the nation, from the English and Irish music of the earliest settlers' to the blues and jazz of the old South and the R&B of Detroit. And Walther's voice ranges as far and wide as his song choices. In his rendering of Leonard Cohen's anthem-like "Hallelujah," he can reach down deep in his throat to find a guttural howl and then soar up to highs that ring like a prayer. To watch him perform is to see a musician in his prime delivering straight from the heart.
And his growth as an artist never stops, as the Zack Walther Band expands its audience. A recent original, "Mustang Wine," is, as he puts it, "a perfect example of the direction this band is headed." Wherever Walther and his band are going, they're doing it at breakneck speed, and for fans of that special kind of music you can only find in Texas, they can't wait until he gets there. – G. C. Larson
Bad Girl – Get Out of Your Head
Bailey's Light – Shake off the Fuzz
Can You Hear Me – Live at Tavern in the Gruene
Casualty – NEW – Not Yet Recorded
Comin out Swinging – Shake off the Fuzz
Crazy Town – Shake off the Fuzz
Doing Things My Way – Get Out of Your Head
Ease Your Mind – Into The Fray
Georgia Cane – Ambition & Live at the Brauntex
Get out of Your Head – Get Out of Your Head
Get Up – Live at the Brauntex
Heart Strings – Shake off the Fuzz
Here With You – Shake off the Fuzz
Hole in the Desert – Shake off the Fuzz
If Love Was Enough – Into The Fray
It Comes Out at Night – Into The Fray
Just Say When – Ambition & Live at the Brauntex
Lies – Into The Fray
Love Has a Way – Shake off the Fuzz
Middle of July – Live at the Brauntex
Money Tree – Ambition & Live at the Brauntex
Mountain Laurel – Ambition & Live at the Brauntex
Mustang Wine – Shake off the Fuzz
Our Corner – Ambition & Live at the Brauntex
Pull The Pin – Ambition
Rosa Vel – Into The Fray
Shake off the Fuzz – Shake off the Fuzz
So Easy – Live at Tavern in the Gruene
So Hard – Ambition & Live at the Brauntex
Spinning Away – Live at the Brauntex
Stand Up – Shake off the Fuzz
The Best Part of Me – Into The Fray
The Fight – Get Out of Your Head
The Longest Night – Into The Fray
The Other Side – Into The Fray
To Get To You – Live at Tavern in the Gruene
Tonight – Into The Fray
Tumbleweed – Ambition & Live at the Brauntex
Using My Words – Into The Fray
What a Day – Live at Tavern in the Gruene
What Kind of Man – Get Out of Your Head
Which Way to Run – Live at Tavern in the Gruene
With You in Rome – Live at Tavern in the Gruene
Without One Sound – Ambition & Live at the Brauntex
Wrapped for Me – Live at the Brauntex
You're Gonna Get It – Shake off the Fuzz
DFW (Down for Whatever) – NEW – Not Yet Recorded
What's Up – 4 Non Blondes
Cumbersome – 7 Mary 3
Lucky – 7 Mary 3
Dixieland Delight – Alabama
Hand in My Pocket – Alanis Morisette
Don't Follow – Alice in Chains
Oh Atlanta – Allison Krause
The Lucky One – Allison Krause
Hey Brother – Avichi
I Want it That Way – Backstreet Boys
Feel Like Makin' Love – Bad Company
Gris Gris Satchel – Band of Heathens
Come Together – Beatles
Hey Jude – Beatles
Obladi – Beatles
Where It's At – Beck
Brick – Ben Folds
Walls of Time – Bill Monroe
Ain't No Sunshine – Bill Withers
If There Handn't Been You – Billy Dean
White Wedding – Billy Idol
Lonely is the Night – Billy Squire
She Talks to Angels – Black Crowes
No Diggity – Blackstreet
Bullets – Bob Schneider
Till Someone Catches a Feeling – Bob Schneider
Turn the Page – Bob Seger
Love Never Fails – Brandon Heath
Baby One More Time – Brittany Spears
Hit Me Baby – Brittany Spears
Boot Scootin' Boggie – Brooks & Dunn
Hey Baby – Bruce Channel
Born In the USA – Bruce Springsteen
Dancing in the Dark – Bruce Springsteen
Pink Cadillac – Bruce Springsteen
Secret Garden – Bruce Springsteen
State Trooper – Bruce Springsteen
Stolen Car – Bruce Springsteen
Thunder Road – Bruce Springsteen
For What It's Worth – Buffalo Springfield
Glycerine – Bush
Mexico – Cake
Far Behind – Candlebox
Going Up the Country – Canned Heat
Loving County – Charlie Robison
My Homtown – Charlie Robison
New Years Day – Charlie Robison
Wicked Games – Chris Issac
It Aint Easy Being Me – Chris Knight
Broken Halos – Chris Stapleton
Tennessee Whiskey – Chris Stapleton
Little Rock – Collin Raye
December – Colllective Soul
A Long December – Counting Crows
Mr. Jones – Counting Crows
Linger – Cranberries
Have You Ever Seen The Rain – Credence Clearwater
Miracle of Living – Darrell Scott
You Never Even Called Me by My Name – David Allen Coe
I Hold On – Dierks Bentley
Walk of Life – Dire Straits
Cover of the Rolling Stone – Dr Hook
Ordinary World – Duran Duran
Hotel California – Eagles
Seven Bridges Road – Eagles
Take It Easy – Eagles
Driving My Life Away – Eddie Rabbitt
Heartbreak Hotel – Elvis Presley
I Can't Help Falling In Love With You – Elvis Presley
Inside Out – Eve 6
Santa Monica – Everclear
More Than Words – Extreme
Landslide – Fleetwood Mac
Everlong – Foo Fighters
Friends in Low Places – Garth Brooks
The Dance – Garth Brooks
Thunder Rolls – Garth Brooks
Her Man – Gary Allen
Smoke Rings in the Dark – Gary Allen
Empty Glass – Gary Stewart
Amarillo By Morning – George Strait
Check Yes or No – George Strait
Her Goodbye Hit Me – George Strait
Overnight Male – George Strait
Name – Goo Goo Dolls
Don't Cry – Guns N Roses
Patience – Guns N Roses
Family Tradition – Hank Williams Jr.
I Loved Her First – Heartland
Hold my Hand – Hootie & the Blow Fish
These Days – Jackson Browne
Down Easy – Jackson Parten
LA Freeway – Jerry Jeff Walker
Northeast Texas Women – Jerry Jeff Walker
Leaving on a Jet Plane – John Denver
Instant Karma – John Lennon
Gravity – John Mayer
Footloose – Kenny Loggins
God Bless The USA – Lee Greenwood
Hallelujah – Leonard Cohen
My Own Worst Enemy – Lit
Amy's Back in Texas – Little Texas
Ho Hey – Lumineers
Simple Man – Lynard Skinner
Don't Worry – Madcon
Push – Matchbox Twenty
All About That Bass – Meghan Trainor
Pink Houses – Melancamp
Silver Wings – Merle Haggard
That's The Way Love Goes – Merle Haggard
Black and White – Michael Jackson
Melt With You – Modern English
Fishing in the Dark – Nitty Gritty Dirt Band
Sister – Nixons
Wonderwall – Oasis
Wagon Wheel – Old Crow Medicine Show
4 AM – Our Lady Peace
Take Me Out to the Dance Hall – Pat Green
Walking After Midnight – Patsy Cline
Be Careful – Patty Griffith
Better Man – Pearl Jam
Nothingham – Pearl Jam
Yellow Ledbetter – Pearl Jam
Wish You Were Here – Pink Floyd
Learning to Fly – Pink Floyd / Tom Petty
Where's My Mind – Pixies
Bihemien Rapsody – Queen
High and Dry – Radiohead
Half My Mistakes – Radney Foster
I'm In – Radney Foster
Banditos – Refreshments
Losing My Religion – REM
Coming Home – Robert Earl Keen
Another Place Another Time – Rodney Crowell
Ashes By Now – Rodney Crowell
I Want You – Rodney Crowell
That's What I Like About You – Romantics
Don't It Make You Wanna Dance – Rusty Wier
Cupid – Sam Cooke
All These Years – Sawyer Brown
Wind of Change – Scorpions
Closing Time – Semismic
Tinsel Town – Shawn Mullins
Sounds of Silence – Simon & Garfunkle
Nothing Compares – Sinead O'Cnnor
All For You – Sister Hazel
Runaway Train – Soul Asylum
Space Hog: In the Meantime – Space Hog
Two Princes – Spin Doctor
Copperhead Road – Steve Earle
The Joker – Steve Miller Band
Big Empty – Stone Temple Pilots
Interstate Love Song – Stone Temple Pilots
Plush – Stone Temple Pilots
Loving Is What I Got – Sublime
What I Got – Sublime
Hunger Strike – Temple of the Dog
Livign of Love – The Avett Brothers
Weight Of Lies – The Avett Brothers
Build Me Up Buttercup – The Foundations
American Woman – The Guess Who
Jumper – Third Blind Eye
It's Your Love – Tim McGraw
Free Fallin – Tom Petty
Last Dance with Mary Jane – Tom Petty
You Don't Know How It Feels – Tom Petty
Time Marches On – Tracy Lawrence
Anymore – Travis Tritt
Mysterious Ways – U2
Into the Mystic – Van Morrison
The Freshman – Verve Pipe
Blister in the Sun – Violent Femmes
Sixth Ave Heartache – Wallflowers
Someone Somewhere Tonight – Walt Wilkins
Good Old Boys – Waylon Jennings
Say It Aint So – Weezer
Here I Go Again – Whitesnake
On The Road Again – Willie Nelson
Poncho & Lefty – Willie Nelson
Shotgun Willie – Willie Nelson
Seven Fallen Angels – Willie Nelson & Ray Charles
All I Want For Christmas
Amazing Grace
Go Tell It On the Mountain
How Great Thou Art
I Saw The Light
National Anthem
Open The Eyes of My Heart
Rockin Around The Christmas Tree
Santa Clause Is Coming To Town
Will The Circle Be Unbroken