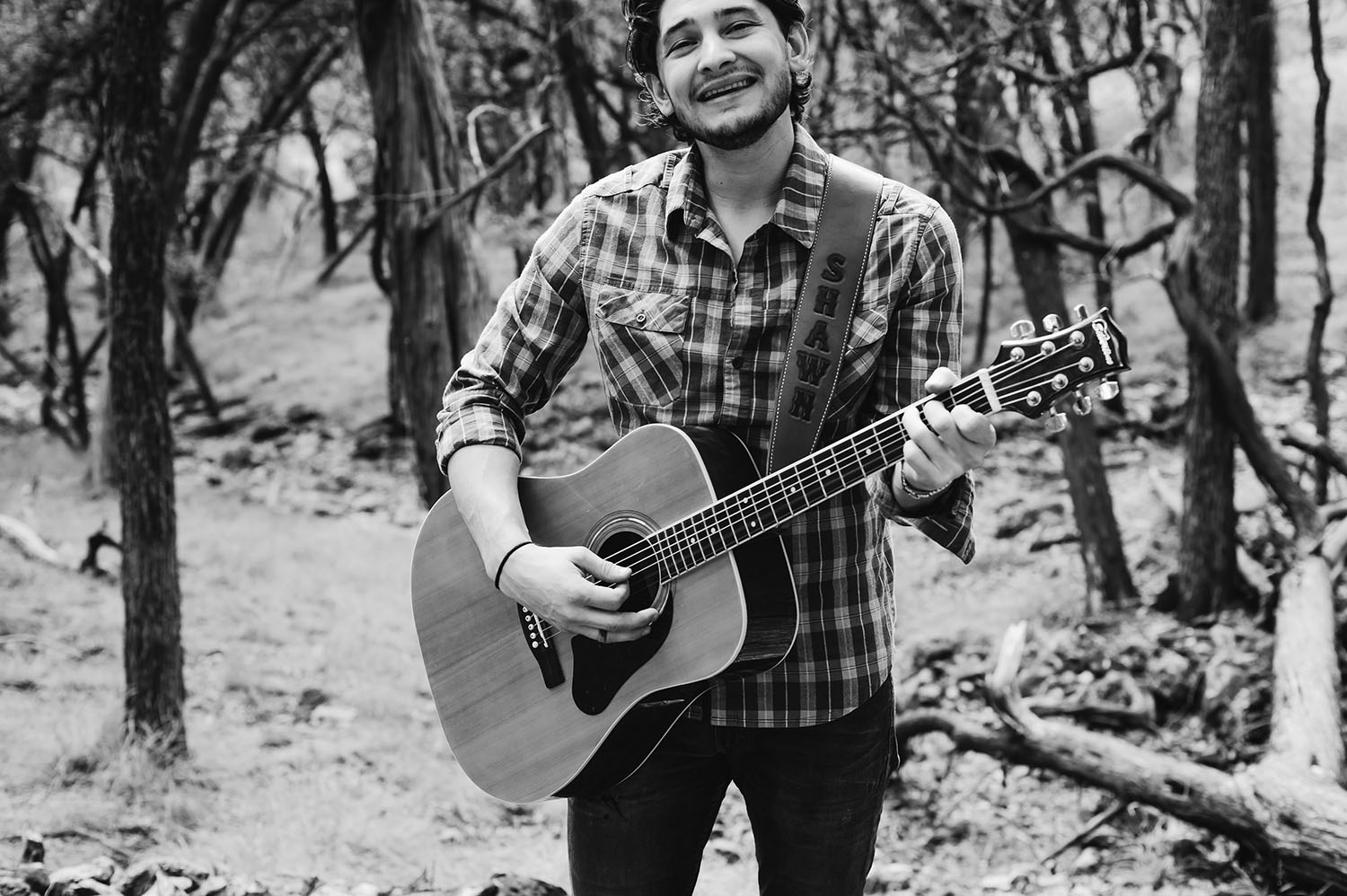 Shawn grew up in a small town in Wisconsin, about an hour south of Madison, called Monroe. From a young age he was very active in many different sports and they kept him busy all throughout his school years. However, before his junior year of high school he found a new hobby when he purchased his first guitar. Shawn quickly started building a repertoire filled with the songs his parents listened to – such as, John Mellencamp, The Eagles, and a plethora of hit country tunes. Playing guitar and singing songs quickly became what he filled his spare time with.
In 2012 Shawn got his degree in Therapeutic Recreation from the University of Wisconsin – La Crosse. Although never performing professionally at this time, Shawn played a lot for friends and family. Shawn moved to Texas in 2012 to complete an internship and got a job at a new nursing home in Cedar Park, Texas. For two years Shawn continued to work in nursing homes around the Austin area and music was often a focal point in the activities that Shawn scheduled for the residents at the nursing homes. In 2014 he was introduced to Matthew Briggs and Zack Walther, through mutual friends, and from then on Shawn started taking music more seriously. He started playing acoustic during the Zack Walther Band shows, and eventually started going on the road with Zack, selling merch and setting up and taking down gear. When Zack's bass player left the band, Shawn learned how to play bass so he could fill in if needed, which led to Zack asking him to join the band. Shawn fell in love with touring around Texas every weekend and enjoyed the challenge of learning a new instrument and a whole new set of songs outside of his influences.
2016 was Shawn's first year of playing music full time, and he has kept busy playing shows with Zack, performing solo in the community, and performing for the older population at many nursing homes/assisted living facilities from San Antonio to Austin. Each of these different types of shows offered Shawn the opportunity to learn different types of music, and has resulted in him having a long list of cover songs that he can bust out when needed. During the summer of 2016 Shawn spent seven months playing guitar and touring the Midwest and East Coast with the Alex Meixner Band (a world renowned Polka band). During this time Shawn learned to play yet another type of music and his stage experience grew exponentially. In early 2017 Shawn came back to New Braunfels to fill his role in the Zack Walther Band, and continue to make a name for himself as a solo artist. He also started his own podcast, The Hart of Americana, where he has conversations with people in and around the Texas music business. This year has been one of his busiest yet and he has no plans of slowing down anytime soon.
Shawn Hart - Real World - Live - Acoustic
Title

Runtime

21:02

View count

614
Title

Runtime

1:53

View count

7
Title

Runtime

1:54

View count

5
Be Strong
Gave Me A Try
Halo Held Up By Horns
Help Me Through
I'm Movin' On
If I Had You
Lake Of Love
Maybe
Meet In Dream Land
Orion
Road To Nowhere
Runway
The West Side
Whatever You Want
Ain't No Mountain
Heartaches By the Number
I'm A Believer
Waltz Across Texas
Here Without You – 3 Doors Down
Tangled Up In You – Aaron Lewis
The Corner – Aaron Lewis
Vicious Circles – Aaron Lewis
Barbed Wire Halo – Aaron Watson
July In Cheyene – Aaron Watson
Next To Heaven – Aaron Watson
Off the Record – Aaron Watson
San Angelo – Aaron Watson
Songs About Saturday Night – Aaron Watson
Grow Old With You – Adam Sandler
Rollin In the Deep – Adele
I Don't Even Know Your Name – Alan Jackson
5 O'Clock Somewhere – Alan Jackson
Five O' Clock Somewhere – Alan Jackson and Jimmy Buffet
When You Say Nothing At All – Allison Kraus
Sister Golden Hair – America
So Far Away – Avenged Sevenfold
Stand By Me – Ben E. King
Ain't No Sunshine – Bill Withers
Piano Man – Billy Joel
Achey Breaky Heart – Billy Ray Cyrus
Ol' Red – Blake Shelton
The Baby – Blake Shelton
The More I Drink – Blake Shelton
Blowing In the Wind – Bob Dylan
Knockin' On Heaven's Door – Bob Dylan
Times They Are A Changin' – Bob Dylan
It Aint Me – Bob Dylan / Johnny Cash
Turn the Page – Bob Seger
Dead Or Alive – Bon Jovi
Then – Brad Paisley
We Danced – Brad Paisley
Whiskey Lullaby – Brad Paisley
Boot Scootin' Boogie – Brooks And Dunn
A Different World – Bucky Covington
I'll Walk – Bucky Covington
Peggy Sue – Buddy Holly
Blue Suede Shoes – Carl Perkins
Bad Moon Rising – CCR
Maybe Baby – Charles Hardin
Kiss An Angel Good Morning – Charlie Pride
I Want You To Want Me – Cheap Trick
Whiskey and You – Chris Stapleton
Fire Away – Chris Stapleton
I See the Want To In Your Eyes – Conway Twitty
Bible On the Dash – Corb Lund
This Aint Nohing – Craig Morgan
Higher – Creed
Music of the Night – David Cook
Dust On the Bottle – David Lee Murphy
I Will Follow You Into the Dark – Death Cab for Cuttie
The Girl On the Billboard – Del Reeves
What Was I Thinking – Dierks Bentley
Always the Love Songs – Eli Young Band
Even If It Breaks Your Heart – Eli Young Band
Your Song – Elton John
All Shook Up – Elvis
Can't Help Falling In Love With You – Elvis
Hound Dog – Elvis
If I Can Dream – Elvis
That's Alright Mama – Elvis
Love Your Love the Most – Eric Church
Layla – Eric Clapton
Tears In Heaven – Eric Clapton
Wonderful Tonight – Eric Clapton
Blueberry Hill – Fats Domino
Friend of a Friend – Foo Fighters
Times Like These – Foo Fighters
I Want To Know What Love Is – Foreigner
Come Fly With Me – Frank Sinatra
New York, New York – Frank Sinatra
Friends In Low Places – Garth Brooks
The Thunder Rolls – Garth Brooks
Every Storm (Runs Out of Rain) – Gary Allan
The Race Is On – George Jones
White Lightning – George Jones
All My Exes – George Strait
Check Yes or No – George Strait
El Rey – George Strait
Livin' For the Night – George Strait
Write This Down – George Strait
Hold On – Good Charlotte
Bury Me In Blue Jeans – Granger Smith
Boulevard of Broken Dreams – Green Day
Good Riddance – Green Day
Deep In the Heart of Texas – Hank Thompson
I Saw the Light – Hank Williams
Jambalaya – Hank Williams
Flightless Bird American Mouth – Iron and Wine
Bubble Toes – Jack Johnson
Hold Me – Jackie Darlene
In Color – Jamey Johnson
What Do You Want – Jarrod Niemann
Asphalt Cowboy – Jason Aldean
Big Green Tractor – Jason Aldean
On My Highway – Jason Aldean
Cry Pretty – Jason Eady
Alyssa Lies – Jason Michael Carroll
I'm Yours – Jason Mraz
Brand New Angel – Jeff Bridges
Fallin' and Flyin' – Jeff Bridges
I Don't Know – Jeff Bridges
Bad Bad Leroy Brown – Jim Croce
Box #10 – Jim Croce
I'll Fly Away – Jim Reeves
Margarittaville – Jimmy Buffet
Down By the Riverside – Jimmy Davis
Annie's Song – John Denver
Country Roads Take Me Home – John Denver
Leaving On A Jet Plane – John Denver
Easter Eve – John Mellencamp
Hurts So Good – John Mellencamp
Jackie Brown – John Mellencamp
Save Some Time – John Mellencamp
Small Town – John Mellencamp
Thinking About You – John Mellencamp
Your Life Is Now – John Mellencamp
Sold – John Michael Mongomery
Cocaine Blues – Johnny Cash
Delia's Gone – Johnny Cash
Folsom Prison Blues – Johnny Cash
Get Rhythm – Johnny Cash
I Walk the Line – Johnny Cash
Jackson – Johnny Cash
Ring of Fire – Johnny Cash
Oh Tonight – Josh Abbott
Faithfully – Journey
If Heaven Wasn't So Far Away – Justin Moore
After Tonight – Justin Nozuka
Criminal – Justin Nozuka
Down In A Cold Dirty Well – Justin Nozuka
Save Him – Justin Nozuka
Only You Can Love Me This Way – Keith Urban
Stupid Boy – Keith Urban
Til Summer Comes Around – Keith Urban
Tonight I Wanna Cry – Keith Urban
Down the Road – Kenny Chesney
You Had Me From Hello – Kenny Chesney
Picture – Kid Rock
Hallelujah – Lenard Cohan
Easy – Lionel Richie
God Bless Texas – Little Texas
Do I – Luke Bryan
Play It Again – Luke Bryan
Drink A Beer – Luke Bryan / Chris Stapleton
Simple Man – Lynyrd Skynyrd
Sweet Home Alabama – Lynyrd Skynyrd
I Can Only Imagine – MercyMe
Mama Tried – Merle Haggard
House That Built Me – Miranda Lambert
Ghosts That We Knew – Mumford and Sons
Sweet Caroline – Neil Diamond
Old Man – Neil Diamond
Hurt – Nine Inch Nails / Johnny Cash
Wonderwall – Oasis
Wagon Wheel – Old Crow Medicine Show
Sitting On the Dock of the Bay – Ottis Reading
Hey Ya – Outkast
Walking After Midnight – Patsy Cline
When A Man Loves A Woman – Percy Sledge
Music of the Night – Phantom of the Opera
Keep On Loving You – R.E.O. Speedwagon
Angel Flight – Radney Foster
In My Arms Instead – Randy Rogers
Skin – Rascal Flatts
He Touched Me – Religious Traditional
How Great Thou Art – Religious Traditional
In the Garden – Religious Traditional
Jesus Loves Me – Religious Traditional
This Little Light of Mine – Religious Traditional
When the Role is Called Up Yonder – Religious Traditional
Swing Life Away – Rise Against
Dang Me – Roger Miller
King of the Road – Roger Miller
Dirty Rain – Ryan Adams
The Weary Kind – Ryan Bingham
On the Way Down – Ryan Cabrera
Reckless Love – Sean McConnell
Sounds Of Silence – Simon and Garfunkel
I Got You Babe – Sonny and Cher
Pride and Joy – Stevie Ray Vaughn
If I Had A Boat – Stoney Larue
Come Sail Away – Styx
Stay – Sugarland
Mean – Taylor Swift
Out of the Woods – Taylor Swift
Tribute – Tenacious D
If I Die Young – The Band Perry
Can't Buy Me Love – The Beatles
Here Comes the Sun – The Beatles
I Want To Hold Your Hand – The Beatles
Oh Darlin – The Beatles
With A Little Help From My Friends – The Beatles
Midnight Rider – The Doobie Brothers
Under the Boardwalk – The Drifters
Desperado – The Eagles
Hotel California – The Eagles
Love Will Keep Us Alive – The Eagles
Take It Easy – The Eagles
Iron and Ore – The Last Revel
Fishin' In the Dark – The Nitty Gritty Dirt Band
Unchained Melody – The Righteous Brothers
My Girl – The Temptations
The Freshman – The Verve Pipe
That Thing You Do – The Wonders
Joy To the World – Three Dog Night
I'm An Indian Outlaw – Tim McGraw
If You're Reading This – Tim McGraw
Beers Ago – Toby Keith
Courtesy of the Red, White, and Blue – Toby Keith
Beer For My Horses – Toby Keith and Willie Nelson
Free Fallin' – Tom Petty
I Won't Back Down – Tom Petty
Mary Jane's Last Dance – Tom Petty
Tie a Yellow Ribbon – Tony Orlando & Dawn
Keeper of the Stars – Tracy Byrd
Ten Rounds With Jose Quervo – Tracy Byrd
Fast Car – Tracy Chapman
Amazing Grace – Traditional
America the Beautiful – Traditional
My Bonnie Lies Over the Ocean – Traditional
Oh Susanna – Traditional
This Land Is Your Land – Traditional
You Are My Sunshine – Traditional
Brown Eyed Girl – Van Morrison
Turn On the Lights – Wade Bowen
Can't You See – Waylon Jennings
Waymore's Blues – Waylon Jennings
Last Kiss – Wayne Cochran
Guitar Or A Gun – Will Hoge
She Likes the Beatles – William Clark Green
Tonight – William Clark Green
Blue Eyes Crying In the Rain – Willie Nelson
On the Road Again – Willie Nelson
Whiskey River – Willie Nelson
Chicken Fried – Zac Brown Band
Colder Weather – Zac Brown Band
Free – Zac Brown Band
Highway 20 Ride – Zac Brown Band
Toes – Zac Brown Band
99 Bottles – Zane Williams
Pablo and Maria – Zane Williams
Sure Felt Like Goodbye – Zane Williams