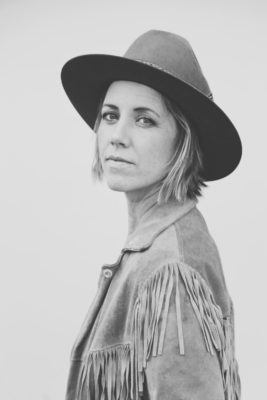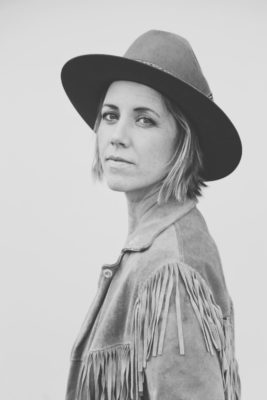 When describing Jamie Wilson's voice, two aspects come to mind: that honeyed tenor twang that's become known as one of the sweetest instruments in modern folk music, and that poignant, poetic, down-to-earth point of view she brings to her songwriting. The spotlight shines brighter than ever on both with Holidays & Wedding Rings, her upcoming January 2015 release. Even fans may be surprised to realize it's the first full-length solo album from one of brightest and busiest stars in her recent years amid the folk/Americana/independent country music scene.
An artist of singular talent and restless creativity, she broke into the Texas country/folk scene as one of the co-lead vocalists of the Gougers before the band gradually gave way to not only Wilson's solo work (the fine EP "Dirty Blonde Hair" was released in 2010) but also higher-profile musical adventures with The Trishas, an all-female singer-songwriter band that has toured through some of the state and nation's best venues. Scoring one of the best albums of 2012 with "High Wide & Handsome," the Trishas lit up the genre for a few years while always leaving Wilson room for solo gigs, guest spots on over a dozen albums by now, and song-swaps with like-minded artists all over Texas and beyond.
Both deeply personal and solidly collaborative, Holidays & Wedding Rings is an evident labor of love from the sort of songwriter who can delve into the sweetness of family life without hitting sap. Someone who can dig into heartache without wallowing in it, go slow and subtle and still leave a listener rapt. Someone who can share the spotlight with top-flight musicians: veteran Texas music hands John Ross Silva, Scott Davis, Cody Foote and Reckless Kelly's David Abeyta are all in the mix here, along with alt-country star Wade Bowen on a spine-tingling duet/co-write. Wilson's home life as a wife and mom come through often in her music (and are known to many of her fans through her humorous social media profiles) but creatively, she can portray lonesome and restless with the best of them.
Multiple approaches, countless gigs, several years and nearly a million miles into what promises to be a grand career, Jamie Wilson not only runs with a good crowd: she never fails to stand out. – Mike Ethan Messick
Just Like Heartache
She'll Take Tonight
You Left My Chair
Just Some Things
Moving Along
Roses by the Dozen
Seven Year Drought
Yours and Mine
Whisper on My Skin
Nighttime Blues
Here Tonight
Old Oldsmobile
Faithful & True
The Being Gone
Oklahoma Stars
Eyes for You
Everybody's Moving Slow
Instant Coffee Blues
Death & Life
Run
In a Wink
If I Told You
18 Wheels & a Dozen Roses – Kathy Mattea
Anyhow, I Love You – Guy Clark
Automatic – Miranda Lambert
Grandpa, Tell Me About the Good Old Days – The Judds
Help Me Make It Through the Night – Kris Kristofferson
House That Built Me – Miranda Lambert
Lost Highway – Hank Williams
Luxury Liner – Emmy Lou Harris
Mind Your Own Business – Hank Williams
One of These Days – Emmy Lou Harris
Ramblin' Fever – Merle Haggard
Red Dirt Girl – Emmy Lou Harris
The Bed You Made for Me – Highway 101
The Way I Am – Merle Haggard
Two More Bottles of Wine – Emmy Lou Harris
She Ain't Going Nowhere – Guy Clark
Walkin' After Midnight – Patsy Cline
Whiskey, If You Were a Woman – Highway 101
And many more classics from the 80's and 90's!