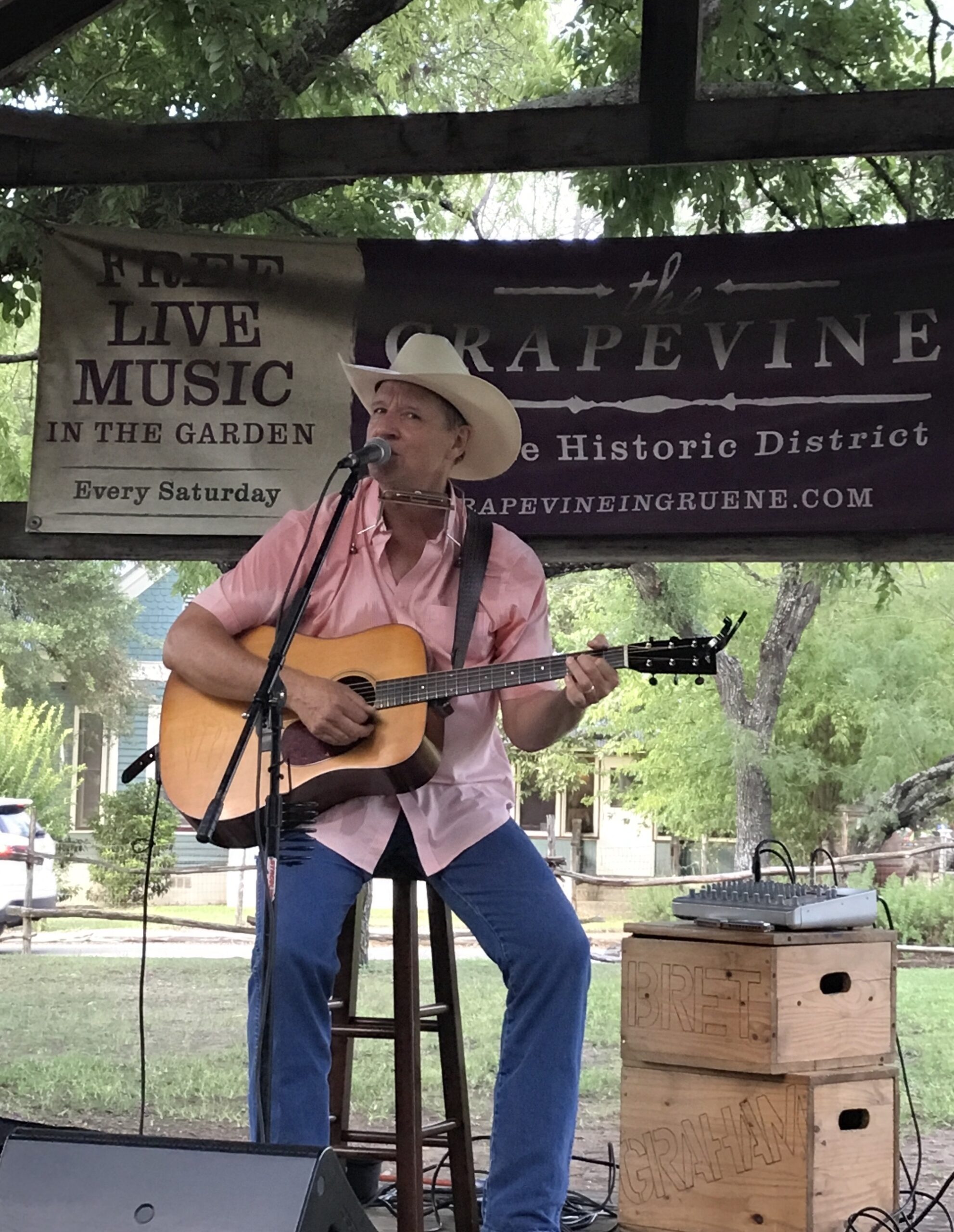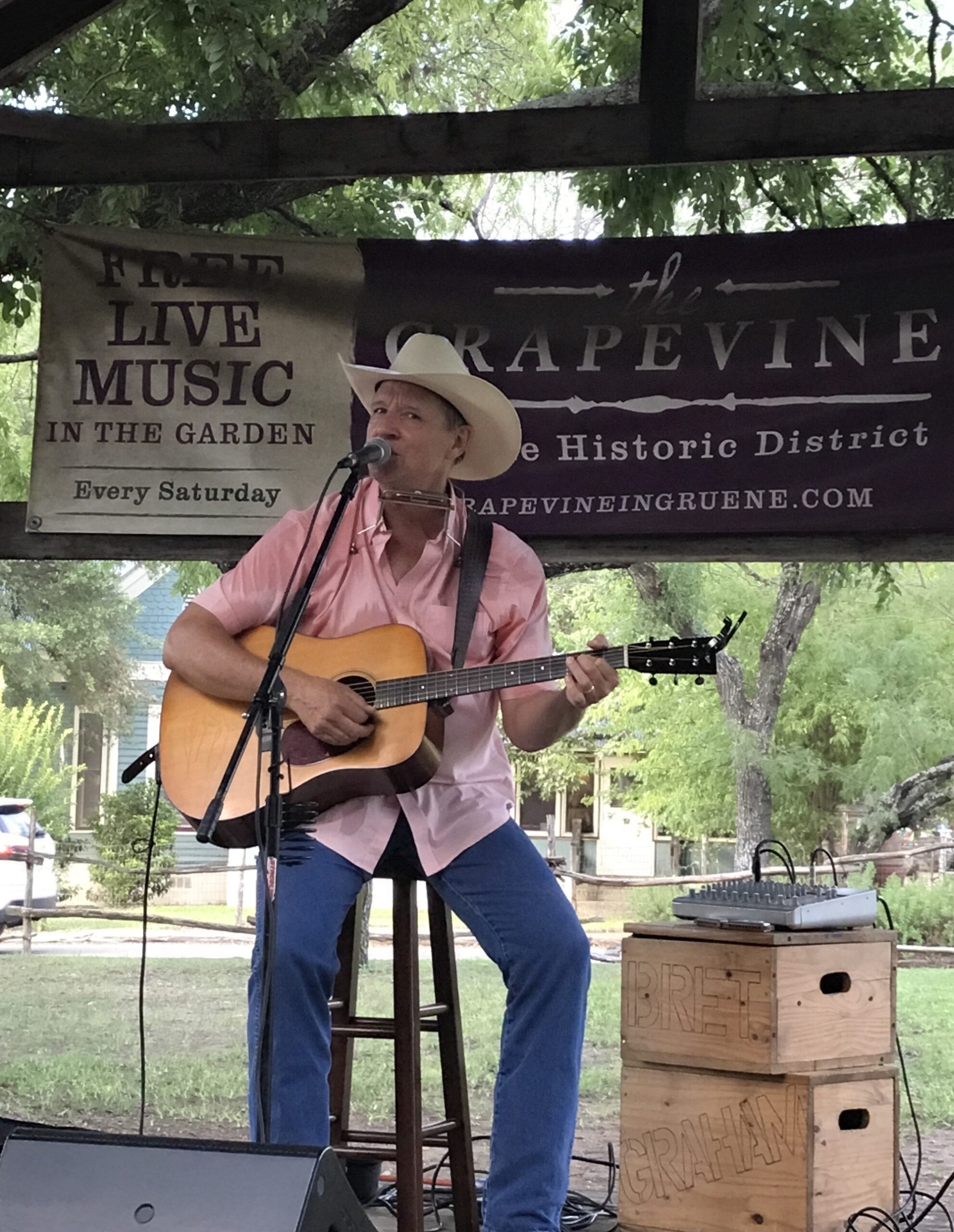 Alone on stage with just a guitar and harmonica, Bret can easily take charge of even the rowdiest of crowds. In his element at Gruene Hall, Bret attracts a large audience whenever he plays.  Migrating south to Texas from Stroud, Oklahoma, Bret settled in Canyon Lake and started making the rounds with guitar in hand. Paying gigs were scarce but he hung in there and slowly began to build a fan base in the surrounding area. He sold copies of a homemade tape he recorded in 1997 and started writing songs for his next album.
Though a little rough around the edges, the tape had several gems that Bret would continue to polish in front of his new fans. "Honkin' Out Some Hank," an ode to classic country music, "She Caught Me Not Fishing," a hilarious tale about the lengths men will go to get out of the house and "He Found Me," easily the best gospel song I've ever heard. Another song on the tape, "Simple Life," tells a story that will take your breath away. It's about his grandfathers devotion to the family farm and his satisfaction of raising his family there. The song lyrics are simply spellbinding. Bret is a simple man with simple tastes. He sits on a wooden stool he built by hand, using no power tools or nails. It looks brand new, though Bret confesses that it's actually over ten years old. With a song repertoire in the hundreds, he's rarely stumped when fans call out requests. Though never captured on tape, his version of "Me And Bobby McGee" must be heard to be believed. Without giving away the secret, it's an experience you will never forget.
Bret soon decided it was time to make a CD after the popularity of his 1997 tape. He went on to record his next 4 CD's titled with the year, 1998,1999,2000, and 2001. He also recorded a gospel with his testimony song as the title, He Found Me. What followed next was,Soldier,then followed by his Christmas album,Merry Christmas from Bret Graham.
When questioned about Nashville, Bret admits that he too made the journey north seeking fame and fortune. "Shortly after arriving in town," remembers Bret, "I met Gail Davies. She had just been hired as a producer for Capitol Records. Her boss was Jimmy Bowen and she'd heard me perform at the Bluebird Cafe one night. I was invited over to Bowen's house to play him a few songs. He was real nice, took time to listen to my music. I think I played about five songs. "She Caught Me Not Fishing" was one of them. I can't really remember the other ones I played. The music I have now is, I think, actually stronger than the songs I had back then, back in '90 when I met him."
Bret has no regrets about not being signed by Bowen, simply chalking it up to one of lifes many lessons. "I guess it just wasn't meant to be." says Bret While a lucrative music career is probably ever musicians dream, Bret feels very comfortable with where his career is at right now.
Bret is the regular MC at Gruene Hall in Gruene Texas for their monthly Gospel brunches.He shares the stage with the Silvertones, a black gospel group from Austin Texas and Salina Afrim from San Antonio. The legendary Buckner Fanning delivers a word from God as church is celebrated in the Oldest Dance Hall In Texas!
In addition to at least half dozen CDs of original tunes, his song repertorie is in the hundreds.  Bret hosts the monthly Gospel Brunch at Gruene Hall, the oldest dance hall in Texas, and can get almost any group out on the dance floor.  He's well known for his rendition of many classics, like "Waltz Across Texas", "All my Exes Live in Texas", "Bob Wills is Still the King", and "You Don't Have to Call Me by my Name".
Bret Graham performs at Americana Live! Showcase